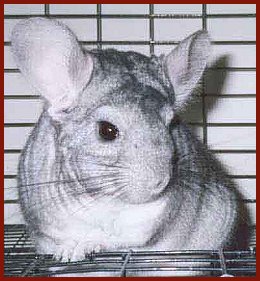 Mujibur the Chinchilla
April 1, 1997 - May 22, 2000
Sadly, our little fuzzy guy passed away on Monday, May 22. He died very quickly and was his bouncy, squiggly self almost until the very end.
We noticed that Muji seemed to be drooling on himself... a lot, so I packed him into his carrier and drove him to the vet on Friday, May 12th. The vet pin-pointed the cause of the drool - a tooth problem. It seemed that one of his back teeth was growing into his tongue. This is actually pretty common for chinchillas. Their teeth grow constantly. On Monday, May 15th, he went back to the vet to get his tooth filed down. He came home that night as happy as he normally is... but a little groggy from his first crack at anesthesia. That Friday, we brought him back to the vet. He hadn't eaten a thing all week. We figured his teeth were a little sore from his first dental work, and so did the vet. We were instructed to force feed him baby food through a syringe. We spent all weekend feeding him mashed bananas, carrots, and even a pureed raisin mixture I made in the blender. He didn't like being force fed, but he was still a happy and frisky little guy. Every time I came into his room, he ran to the edge of the cage, stuck his nose out, and let me kiss it. Sunday night, he stopped being the loveable creature we knew for three years. He didn't struggle when we picked him up and he had no interest in biting his friend Ogden the cat. On Monday, May 22, he was placed in his carrier for his last trip to the vet. He arrived at the vet at 7am and died at 1:30pm.
And the song I sang to him every morning, one last time.... to the tune of Good Morning, Starshine....
"Good morning, Muji. Your mommy says hello. It's time to scratch your tummy. It's time to scratch your chin."
Okay, so it's not a very good song, but Muji never seemed to mind.