Introducing Meester Gecko
Meester Gecko was born August 6, 2001 in Hopkins, MN (Electric Dragonland, to be exact). As you can see from the picture below, Meester Gecko isn't another addition to our already enormous brood of furry creatures but is instead a tattoo.
Meester Gecko was the winning contestant out of several worthy tattoo candidates. He was selected over a portait of Ogden, a palm tree with coconuts on a little tiny island, and a circle swirly thingy that reminded me of chaos.
As many of you know, Ogden is my pride and joy. Looking through the portfolios of all the tattoo artists, I noticed that dozens of other people had their pet's likeliness tattooed on various body parts. The tattoos were wonderful. They had so much detail they were almost like real photos. Of course, Jeffrey half-kiddingly and half-seriously teases me that I love Ogden more than I do. I thought that if I tattooed Ogden on my body, he would probably appear to be right. A portrait of Ogden was nixed.
While looking through the tattoo books, I came across another tattoo that an artist had done. It was a circle filled with swirling color. It was interesting. It struck me as chaotic. I thought that would be a perfect symbol to sum up me - especially since I was still unemployed at that moment. I decided against it because I thought it would a) look like a bruise and b) would constantly have to be explained.
My next thought was to get something that was "me." I was born in the tropics and got married in the tropics. It seemed natural that something tropical was very fitting. I decided on a palm tree with little coconuts hanging from it on a little mound of an island floating in the ocean. I was all set to start looking for pictures on the internet of what I wanted when, as I was falling asleep that night, it occurred to me what me really was. A gecko.
I was born in the Philipphines. When I was little, I ate a gecko. As the story goes, my mother came into the room I was in and saw what appeared to be a tail sticking out of my mouth. By the time she crossed the room and got to me, the tail, and the creature attached to the tail, was gone... down my throat. My family thinks that story is funny. And, as my father pointed out in his speech at my wedding reception, the Bahamas (where we got married) reminded him of the Philipphines because of the geckos running around (and me trying to play with theml if only they knew that now that I'm older they stood no chance of being eaten) and that my life had come full circle.
So.... Meester Gecko is a reminder of my childhood, my marriage, and the fact that now I'm a vegetarian (who doesn't eat geckos anymore).
Without further ado, here's Meester Gecko: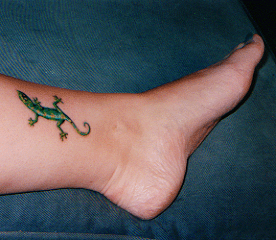 Back to Vaguelando