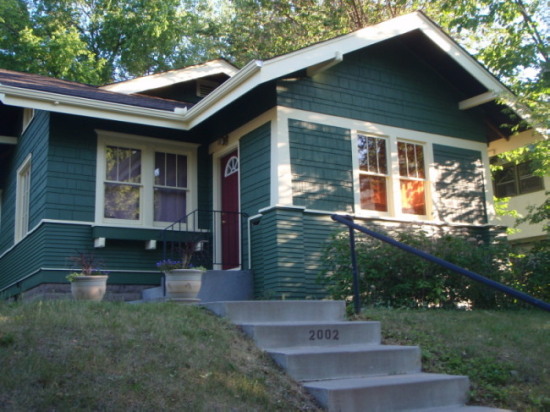 Click on the photo to see more pictures of the inside of the house.
See the

of the color of the exterior of the house
For nogstalia's sake, I opted to keep the story below. The new story is about the house being repainted. We bandied about colors last year, when I pointed out that the house really needed to be re-painted (the paint was chipping ridicuously and the old paint was starting to show through in a sea of wear spots). Jeff liked the current green. I detested it. Hated it. Despised it. I refered to it as "puke green." And if pushed, I would refer to the tan trim color as "poo brown" and the door color as "snot yellow." I wasn't a fan of the color choices. Jeff threw out a miriad of colors, but I shot down each one because of one element - the storms on our windows were chocolate brown. As a result, many colors were elminated because they would not go with the storms. And to be a complete stickler, the style of our house - a prairie bungalow - dictates the color palate. A prairie style house is supposed to blend with nature. Only greens and browns are acceptable (colors found in nature).
The painters came on Monday and began scraping the house, prepping it for painting. They wanted a paint color choice by Thursday. Since Jeff liked the current color and I hated it, he let me choose the new color. I wanted a dark pine green with cream trim. The task that Jeff then assigned me was to find a house that was painted the color I liked and match paint chips to it. I found one that I liked. I went to the paint store and grabbed one sample that I thought immediately must be the color of the house I liked. I was about to leave the store when I decided to grab some others, just in case. The house was several blocks from the paint store and I didn't want to have to drive back if I was wrong. I had other things to do! I drove to the house I liked, parked in the alley so no one could see me, and then held up each of the paint chips next to the garage. None of the five paint chips I grabbed even remotely matched the color. Argh! I went back to the paint store, grabbed practically every single green paint chip, and then drove back to the house I liked. Nothing was spot on. One was kind of the right color but not exactly. It would have to do. Back to the paint store for a test quart ($20). The color was called "Wreath." That sounds pine-looking, right? I also bought some cream color paint for the trim (another $20).
Later that night, I painted a couple of swipes along different sides of the house, in order to get every possible sunlight combination. As it dried, I thought, "Huh. Too blue." I flipped through the dozens of paint chips I had acquired and picked a different green, a greener green. The next day, I bought a quart of it to test (another $20). This color was called "Sage." I painted several boards on various sides of the house. Wow. Kermit green. Definitely not the color I had intended. Even the painters made fun of this color, saying that people in the neighborhood would use our house for directions - "Turn left at the kermit green house."
I went back to the paint store. It was now Wednesday and the pressure to choose a color was mounting. As Jeff reminded me, this would be a color that would be on the house for everyone to see for 15 years. If it was horrible, that's how long I would have to live with my mistake. I looked at all the greens, comparing them to the two paint chips I had already painted. I needed a guideline for what would be too green or too blue. I couldn't find anything that matched the color in my head. I was almost in tears when one of the paint salesmen approached, asking if I needed any help. Needed any help? Was he kidding? He grabbed several different swatches and we talked them through. Finally, he convinced me to try the darker color on the too blue chip. I bought a quart (another $20). Out of the three colors I had to choose from, this was the best of the colors. It was now 6:30. I had decided.
The cream color I had chosen for the trim was too white. Jeff didn't want white with a dark color because he thought the contrast would be too great. Minutes before the painters would arrive demanding the final colors, I switched from the cream I had sampled to an unknown. I didn't want to fork out another $20 to test this color. It would work. It just had to.
I arrived home later that evening and almost didn't wait for the car to come to a complete rest before I jumped out and dashed across the yard to marvel at the freshly painted side of our house. It was green, dark green. I loved it. I e-mailed Jeff that we had a green house. I was so excited. The next day, they painted the trim on the side of the house they had already painted green. I e-mailed Jeff after I saw that and said, "We have a green and yellow house!" To which he replied, "Yellow? I thought you said cream." Hmmm... cream, butter, they're close, right? When Jeff finally saw the house (he had been in Atlanta on business), he giggled and giggled and giggled. The trim was yellow, oh, so yellow. A panic attack consumed me.
Over the weekend, many people would stop by and tell us that they liked the colors. I wouldn't listen to them. The trim was too yellow. No one saw that.
Eventually, the house would be all painted. The body pine green; the trim a creamy-yellow; the door a dark garnet red. The storms are not back on yet (possibly this weekend) but the colors are what we're to live with for the next 15 years. Too yellow or not, it still looks better than it did.

We've welcomed many, many, many critters into our home and our hearts over the years. Some have come and gone. Others have been with us since the dawn of time and will hopefully be there for years to come. First, the infamous Ogden and his drool of death wandered into my life 10 years ago on Tuesday. The next two creatures to waddle into our lives were our little white guinea pig named Sela and her stinky mate Gideon. Then there was the ever rambunctious Quincy, the kitten who only lasted a week with us. And who could forget our first chinny Muji? Zoe the guinea pig still squeaks in her cage. Wensley growled her way into our hearts only a few months after we got married. Nemo and Elsa also gnawed their way into our home. And finally, the newest creature to waddle into our lives is.... 2002 Princeton Ave.
I'm sure you're asking yourself, "What kind of name is that?" Unfortunately, the city of St. Paul named our new baby. And what a big baby it is! Twelve hundred square feet of wood, plaster, and concrete. This new creature is so big, it has to have its own yard.
After only two and a half months of searching (which actually sounds better than it is - it does amount to hundreds of hours driving through neighborhoods, touring houses - 65 of them - and searching real estate sites for the newest listings), we finally decided to make an offer on a house Jeff fell in love with only days into our house hunting.
We found the neighborhood we liked when I suggested to Jeff that it would be fun to live close to the Whole Foods Market in St. Paul. I'm like a kid in a candy store when I go there - they have 20 different kinds of tofu and tons of different types of veggie "meats" that regular grocery stores don't carry. I remember being very overwhelmed the first time I went in there because suddenly I had choices and I wanted to try them all!
It turns out that this part of St. Paul has three colleges within a few miles of each other - Macalester (which is like Hampshire but with grades), St. Catherine's and St. Thomas. Jeff wanted to be within walking distance of shops and restaurants; he wanted "atmosphere." Our first voyage into this neighborhood took us past 2002 Princeton, an hour before its first open house. Jeff decided he wanted to wait for the open house so to pass the time, we went to a little diner called "Snuffy's." We were unfamiliar with it but it turns out that everyone in the neighborhood knows it well. Afterwards, we did go to the open house and I remember thinking, "I hope he forgets about this house" because I did not want to go in it.
The first time we saw the house, it was new to the market by only a few days. Two and a half months later, the house was still on the market, which is pretty unusual for this area. It was almost as if it was waiting for us.
It was built in the early 20s and is a one-story, craftsman style bungalow. It has three bedrooms, one bathroom, a 16x14 kitchen, a formal dining room, and a decent sized living room. The basement is unfinished (I always wanted to learn how to dry wall) and the attic has about 5 feet of room before hitting the roof. The yard has a wonderful looming oak tree and a good deal of green. The house was built on the edge of the property so the side yard is fairly open. The "street" next to the side yard is the entrance to the alley but shouldn't get too much traffic. There is a garage (one car) and a car port for Jeff. :-)
We went to two open houses without our agent and drove by it many times. I often kidded Jeff that the house was going to get a restraining order against us. He was drawn to it. I was not. I decided I wasn't going to find the perfect house (what house comes with a swimming pool sized tub and a 20x20 kitchen with state of the art appliances?) and this house had the most potential for remodeling. I could make the house into my perfect house... after several years.
We went to two more showings of the house before we finally broke down and decided to stop stalking it and make an offer. We drew up the offer papers with our real estate agent from 9am to 10am on Thursday, Octber 17 and then made a mad dash to the airport for an 11:45am flight. As we sat in the Portland, Oregon airport waiting for our connecting flight to Los Angeles, Jeff called our agent and inquired about the offer we submitted to the seller. He had accepted it. Our agent faxed us the papers to sign in the airport (Jeff smooth talked his way into the Alaska Airlines lounge, a club we're not members of, stating, "We just bought our first house today. Can we use your fax machine?") and we faxed them back.
We close December 20th and will spend a month cleaning it (it hasn't been lived in since June), painting, and repairing things that need to fixed (like the lovely clawfoot rusty bathtub...). We'll take our time moving in the boxes ourselves and hire movers for the "real" move in January to take the heavy stuff. Hopefully by the time we do move in (which will be mid-January), we'll be used to dealing with home repairs. In a year, we'll probably be experts. There are a lot of things I want to do with the house but silly Jeff has me on stand-by until we buy things like shovels and a lawn mower and all those other house essential items that we've lived without for so many years.
Since all of our time and money will be devoted to this new baby, I'll keep y'all up-to-date on its progress. I'm planning on keeping a scrap book/photo album/log of all the updates we do on the house. Since we won't be traveling much anymore, this will be our entertainment. Yeah, entertainment. We can say that now, before we start working! At first, these changes will be minor - a little paint here, a door there, but in time (hopefully), the changes will really be major (like a new kitchen). If you don't hear from us for awhile, we're probably working on the house... or trapped under something heavy.